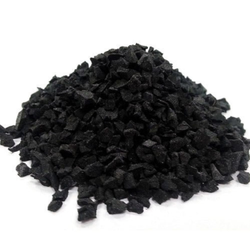 What is Rubber Crumb ?
Rubber Crumbs, also known as recycled rubber or rubber mesh, are made from old tires that have been shredded or chopped into small pieces. The process of creating rubber crumbs involves several steps, including the collection of used tires, the removal of any steel or other materials, and the shredding or chipping of the tires into small pieces. The use of old tires to create rubber crumbs is an effective environmentally friendly solution to the problem of tire waste. Millions of tires are discarded each year, and without proper disposal, they can become a major environmental hazard. By repurposing old tires into rubber crumbs, the risk of these hazards is greatly reduced.
Rubber crumbs have a variety of uses, including as a surface material for playgrounds, athletic fields, and horse arenas. Rubber crumbs offer a safer alternative to traditional surfaces such as wood mulch or gravel as they provide a cushioned surface that can reduce the risk of injury. They are also extremely durable, making them a great choice for high-traffic areas. In addition to being used as a surface material, rubber crumbs are also used in a wide range of industrial and commercial applications. They can be used as a filler in asphalt and concrete as a component in the manufacture of flooring and roofing materials and as a material for soundproofing and insulation.
Rubber Crumbs are also a useful material for landscaping and gardening. They can be used as a top layer for flower beds and under artificial grass to make it seem like original grass.
Overall, rubber crumbs made from old tires are an excellent example of how recycling and repurposing can provide a win-win solution for both the environment and society. It provides a solution to tire waste while also providing a versatile and durable material that can be used in a wide range of applications.
Rubber Crumb Markets
The Global Rubber Crumb Market was valued over US$1.4Bn in 2020. It is estimated that the rubber crumb market will expand at a CAGR of 4.8%from 2021 to 2031. The universal crumb market is expected to cross the value of US$ 2.4Bn by the end of 2031. In the markets of rubber crumbs include new rubber products like , playground and other sports surfacing, and rubber-modified asphalt. The rubber crumbs used in these ground rubber consumed about 36% of the volume of scrap tires generated. Sports surfaces accounted for 25% of tire crumb rubber use.Rubber crumb Market is spread worldwide North America, Europe, Asia Pacific, Latin America and Middle East & Africa. The growth in the use of rubber crumbs in various industries such as construction materials , Automotive components, and asphalt substitute fuels the growth of the crumb rubber market.
Call Us Today
We are manufacturer of best quality rubber granule 10, 20, 30 and 50 mesh. Our rubber crumb is tested and verified by ASTM D5644 method to produce best quality granules.
Call To Action